Fukuyama's clear blue skies,
enriched with a calm and refreshing breeze…
Upon leaving this town I call home,
I've crafted my culinary skills in places such as
France, Tokyo, and Kobe where I've grown
tremendously as a chef while working at
reputable restaurants. And through this journey,
I've experienced many moments of great joy but also
like in any journey, went through some hardships aswell.
After returning home from this journey,
I looked back on what I experienced and realized,
what made my home so great.
Setouchi's vegetables, seafood, and wild birds….
Upon emerging myself into the marvelous local ingredients,
it made me realize as a chef, that it was fate.
In the ever changing seasons of Fukuyama, we entrust in all of its seasonal delicacies and will absolutely pull out all of its magnificent flavors.
Here at L'ardoise, we pride ourselves by serving you such culinary masterpieces.
Enjoy.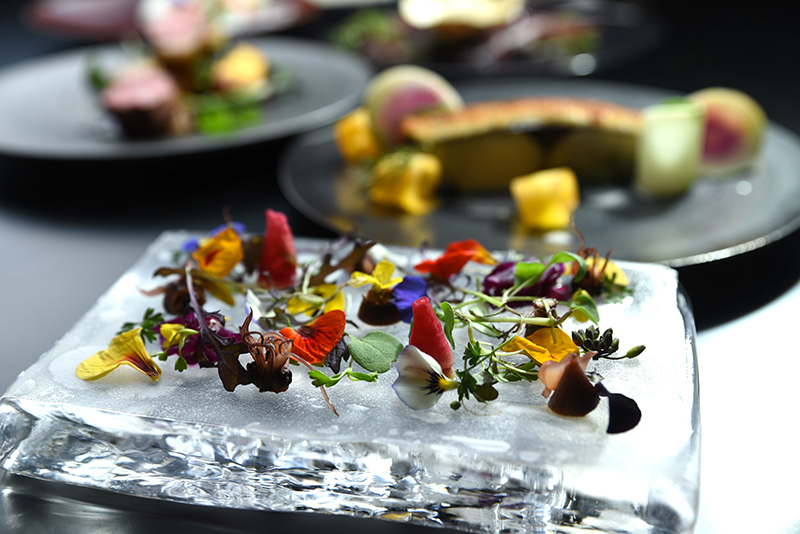 L'ardoise cooks with six commitments.
①We carefully select local vegetables that are pesticide-free and organically grown within a reasonable range.
②We purchase seasonal seafood from reliable fishermen who are particular about the seafood of the Seto Inland Sea.
③We directly purchase organic herbs for restaurants grown by Kajitani Farm in Mihara City.
④We use wagyu beef that we have personally visited the producers and listened to their passion and were impressed with.
⑤We directly purchase Momiji chicken eggs from Uneme Farm, Kasaoka City, Okayama Prefecture.
⑥Bread is carefully baked every day using homemade natural yeast and domestic wheat.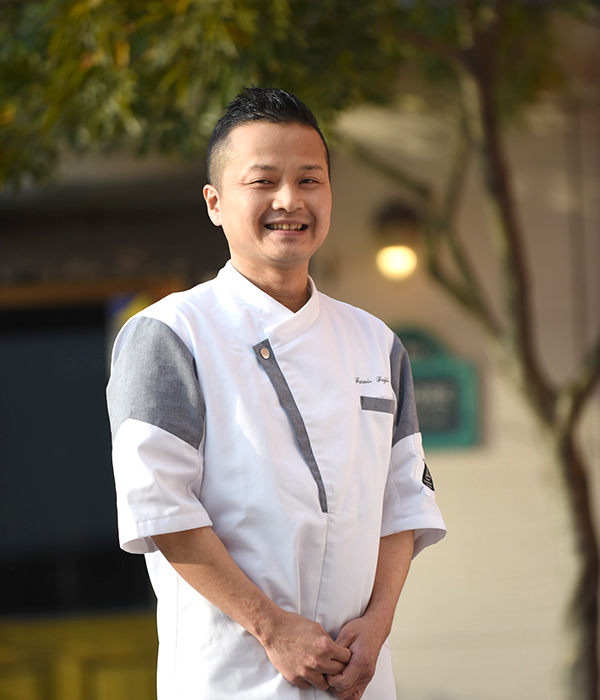 My name is Fumio Fujii. The Owner and chef here at "L'ardoise".
First, we thank you for choosing to dine at "L'ardoise" from a number of restaurants around the area.
Here at "L'ardoise", we opened our doors from the desire to let the local culinary enthusiasts experience the potential of Fukuyama's local ingredients through authentic French cuisine.
We uphold high standards in selecting the best local ingredients.
We go straight to the local farms and markets and listen closely to the farmers and dealers for advice on what is in season and conduct taste tests after taste tests and only use ingresients that meet our standards.
Everytime I go through this process, I always come one concussion.
That Fukuyama's ingredients are absolutely amazing.
And this excitement that I feel is irreplaceable.
My goal is to share this feeling with you.
And that's what goes through my mind day and night.
By putting our heart and soul into each and every dish, We cherish each and everyday, and each and every customer.
We look foword to having you experience a entertaining and joyous time here at a little place called "L'ardoise".